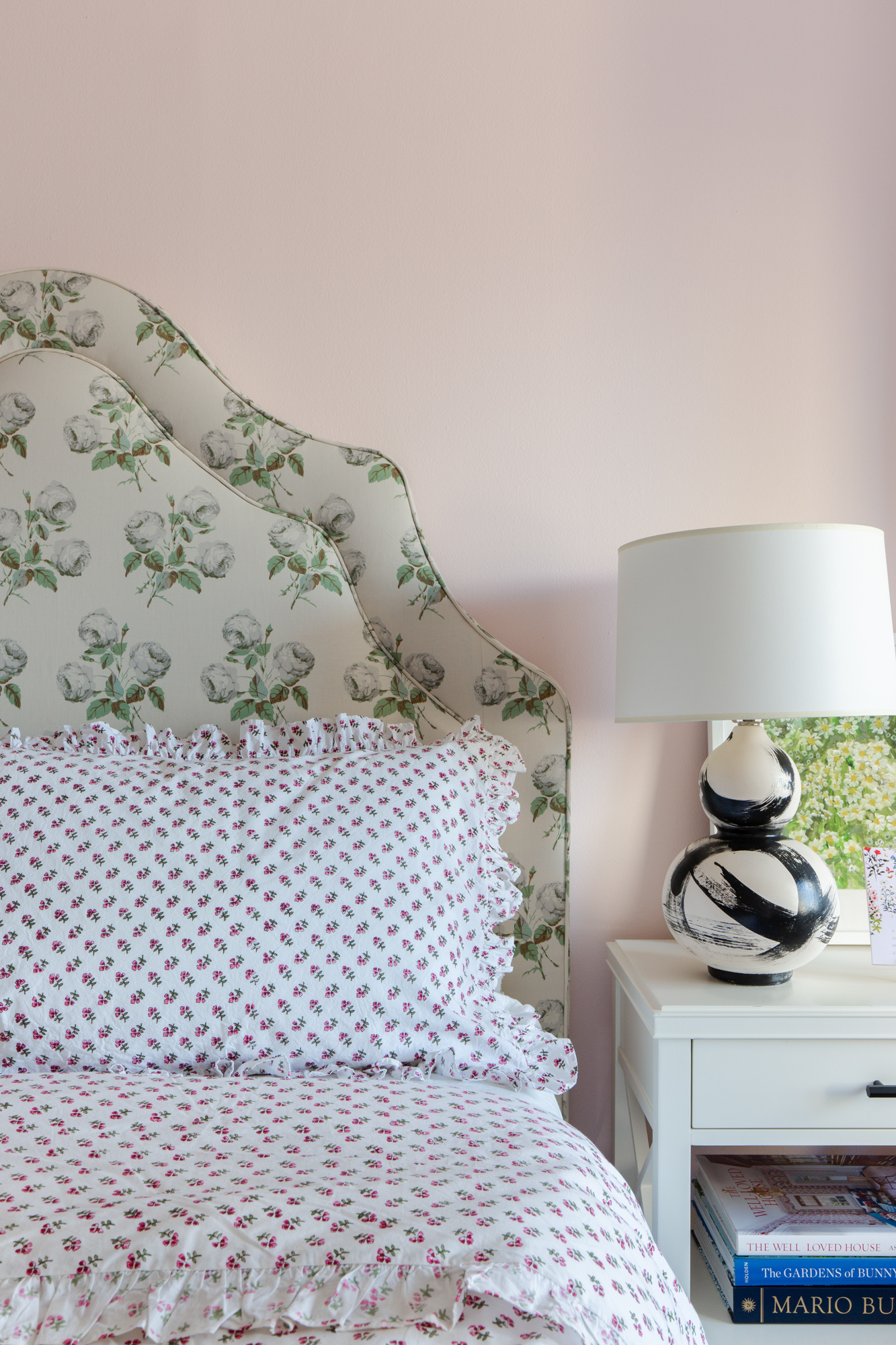 Things are really starting to pick up steam in the apartment! I'm always sharing real-time updates on Instagram but I wanted to post some more pics of the new headboard here because I love it SO much. I'm so glad that Jen and I decided on using Bowood for this piece. To say it's been transformed is an understatement. As you may remember, the headboard is the Pondicherry from Serena and Lily, in a gray linen that they offered. I liked it but was never over the moon about it, and after a few years it definitely had a few stains and was in need of a makeover. I briefly considered getting a different headboard altogether, or a bed (I really wanted a brass bed!), but ultimately we decided that reupholstering this was the best option. I'm actually really glad we were able to reuse something I already had – and seeing it in this new fabric has made me realize how much I actually love the shape and lines of it. Like, LOVE! 
We used Jen's upholsterer for this project, and I know I'm a bad blogger because this would be much more interesting or informative for people if I had like, DIY'ed it! Or more exciting if I'd found it secondhand or what have you. Alas, I am not a DIYer and I am not lucky enough (or patient enough) to find a piece like this secondhand! So we used a professional and I'm thrilled with how it turned out. It's just stunning and seriously makes the room. I've always liked Bowood but I have to say, it's even more impactful and beautiful in person. Also wanted to note that I used Bowood Union, which is the version that's a mix of cotton, nylon and linen. Regular Bowood is 100% cotton and comes in a few colorways. My colorway is green/grey. I chose this because there are two neutral colorways of the 100% cotton Bowood – green/grey, or white/leaf (there are also blue and pink versions). The green/grey had a very beige ground, and the white/leaf had a very white ground. It was hard to decide because I liked both in different ways – the beige ground had a pretty tea-colored, antique look, but the white/leaf was very clean looking. Luckily there was a perfect solution – Bowood Union in green/grey. It has a beige ground that's not AS beige as the other version – so it's seriously the perfect medium between the two. Confusing, perhaps! I felt it was important to do my research and see all of the color and fabric options before choosing, so I'm glad I did that.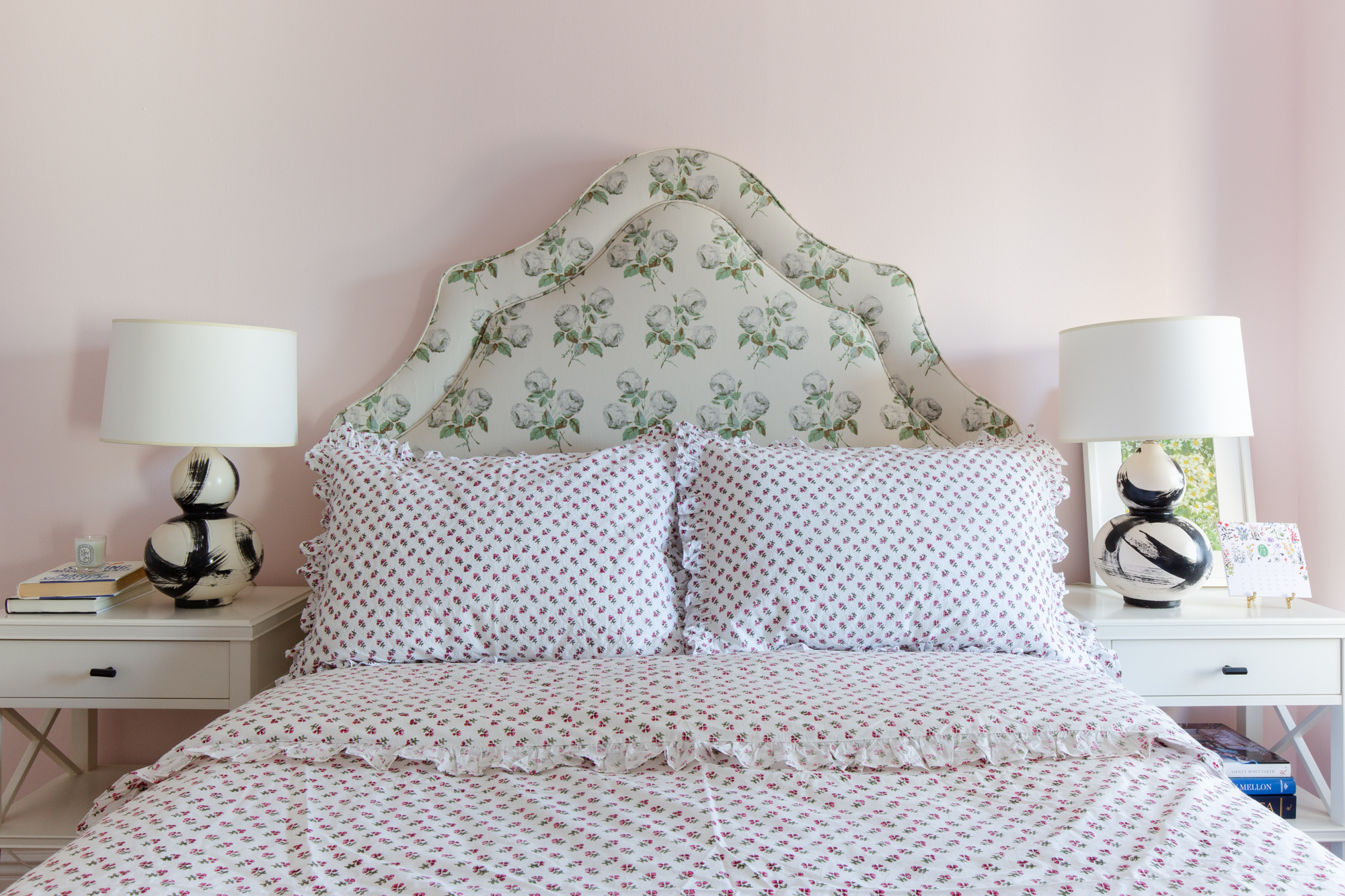 I also wanted to share how much I love my Sarah K. Designs bedding! I found it through (who else?) Louise Roe, and just had to have it – even though figuring out UK sizing was a bit of a head-scratcher. I've always just been completely enamored with ditsy florals so there was no question in my mind that I needed this duvet and pillow set. It's so pretty and charming. The colors, the print, the ruffles…just perfect. I have a full size bed and I'm pretty sure I got the UK King size. It fits perfectly and it's really soft and comfortable. (By the way, I really need to replace the drum shades – I'm thinking of doing a pleated green fabric!). It's actually weird, I used to always find sleeping under my duvet super uncomfortable and it felt really hot and too heavy with a linen duvet cover on it…but ever since I switched to this one, I have no issues and find it really comfy. Was it the duvet cover all this time that was the issue, not the duvet itself?! I honestly never suspected! Bizarre.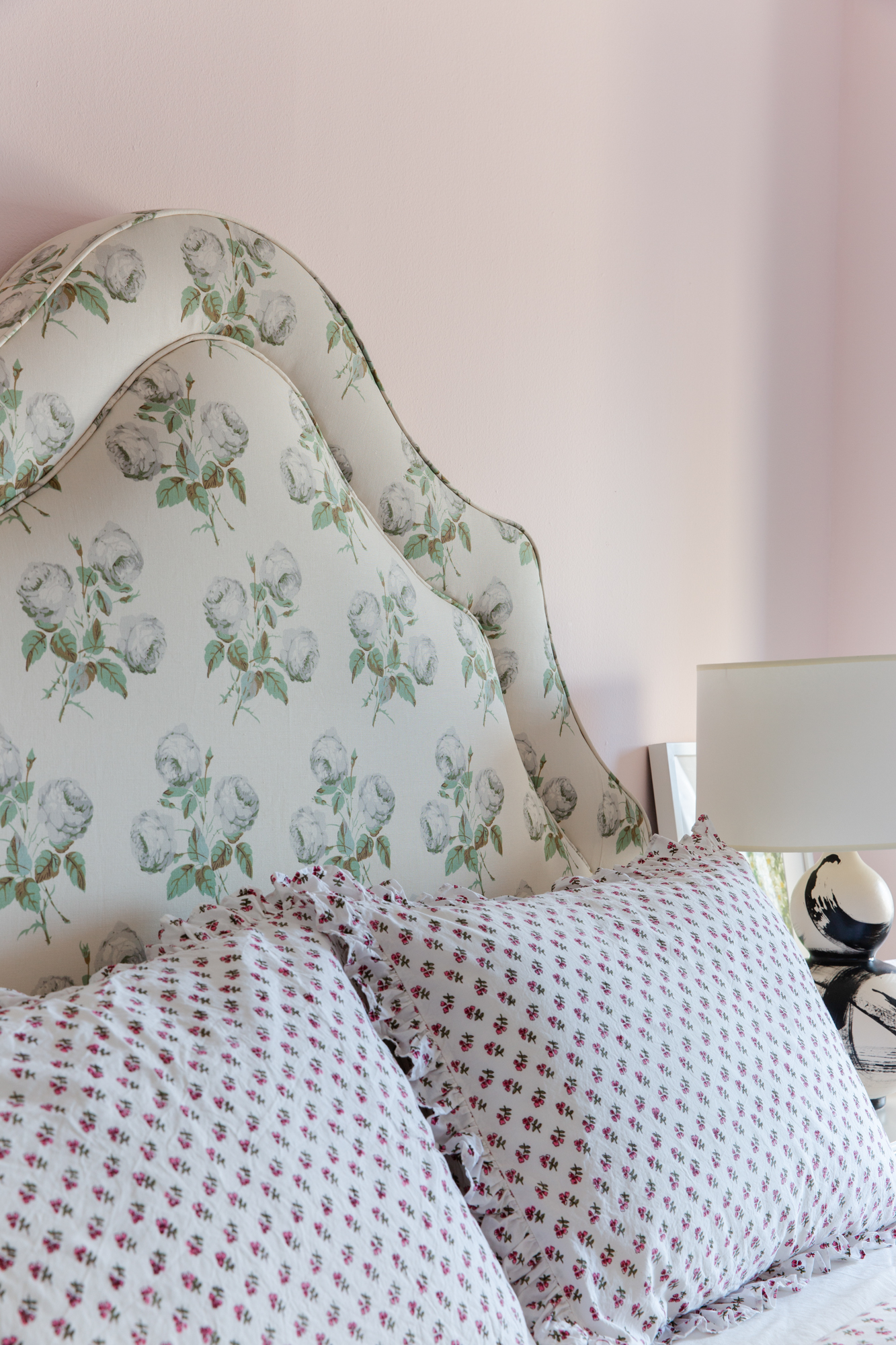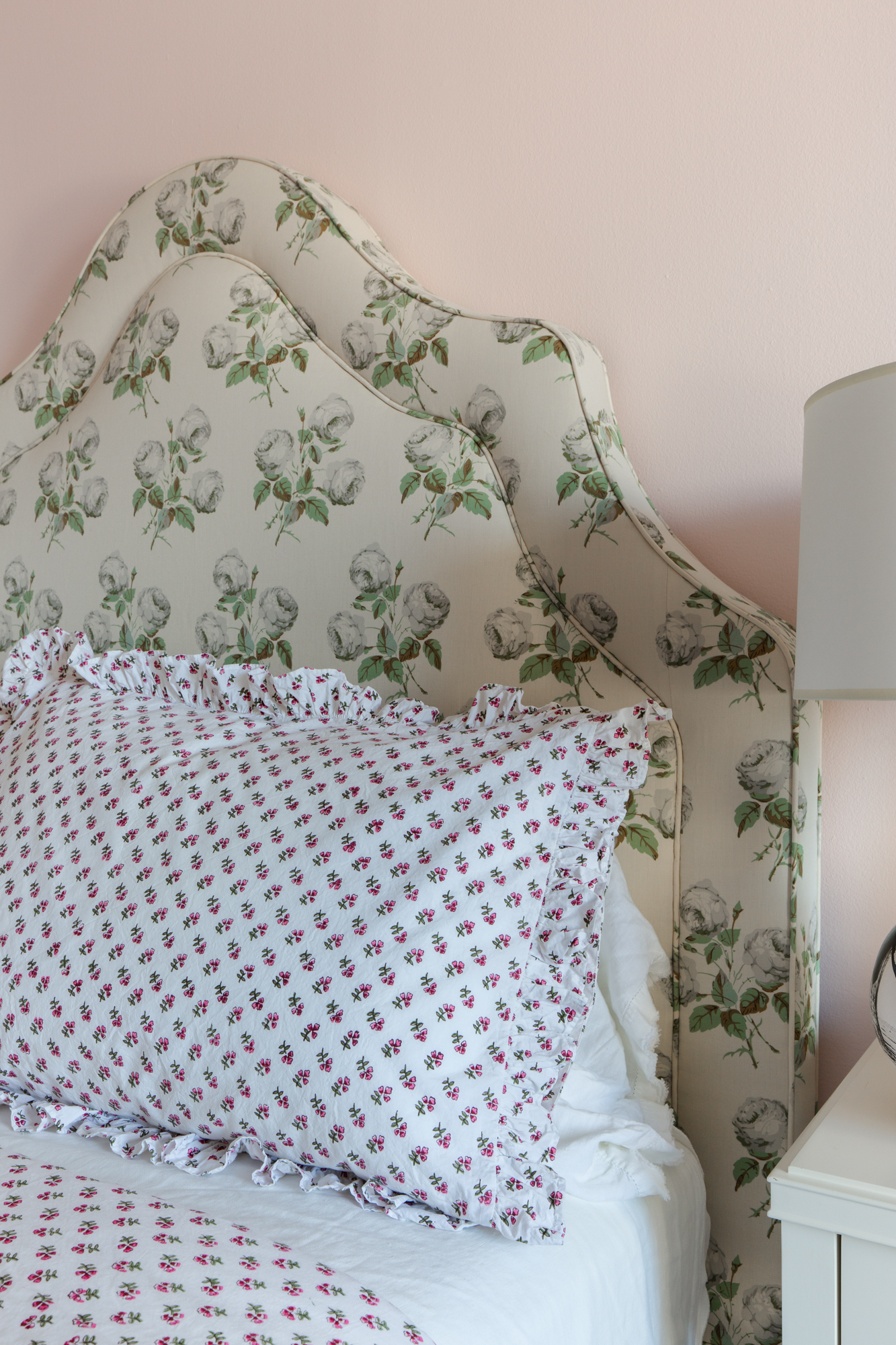 I just can't believe how much I love Bowood! It's such a perfect mix of feeling kind of vintage and antique, but also fresh and lively. There's nothing fusty or fussy about it. It's kind of a perfect fabric and I might go ahead and do curtains in it too, because it's just so good. 
Lots more updates that I need to photograph and share – thanks for following!