[ad_1]

A New York couple has garnered more than 3.3 million views on TikTok of their specially-built house for their colony of 10 cats.
Emily Bott, 28, and her husband Dylan Loewke, 30, from the city of Rochester, New York, currently own 10 cats after inheriting a colony when they bought the property in 2018.
To help the cats feel at home, the couple built a house for their four-legged friends, who the couple say love all of their climbing areas and being able to stretch out freely and perch by the windows.
They regularly share videos on their Freedom Farmhouse TikTok page where they boast 176,000 followers.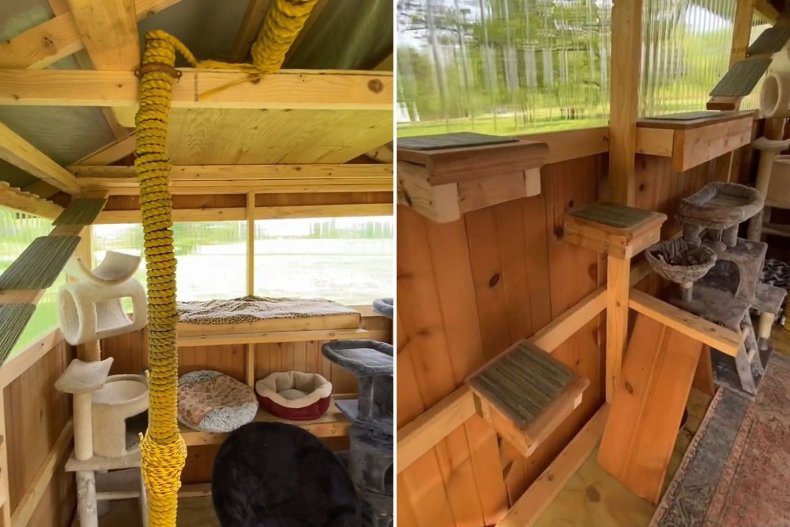 Several clips of the building process have gone viral with over a million views apiece, and one video showing the completed cat house has over 3.3 million views.
In the footage, Bott films the inside of the cat house as she gives viewers a tour while one feline explores its new surroundings.
Footage from inside the cat house shows numerous perches and climbing areas for the cats to enjoy.
Bott can also be heard explaining that they installed an air conditioning unit for when it gets hot, and the camera can be seen panning to the right and showing the newly-installed device.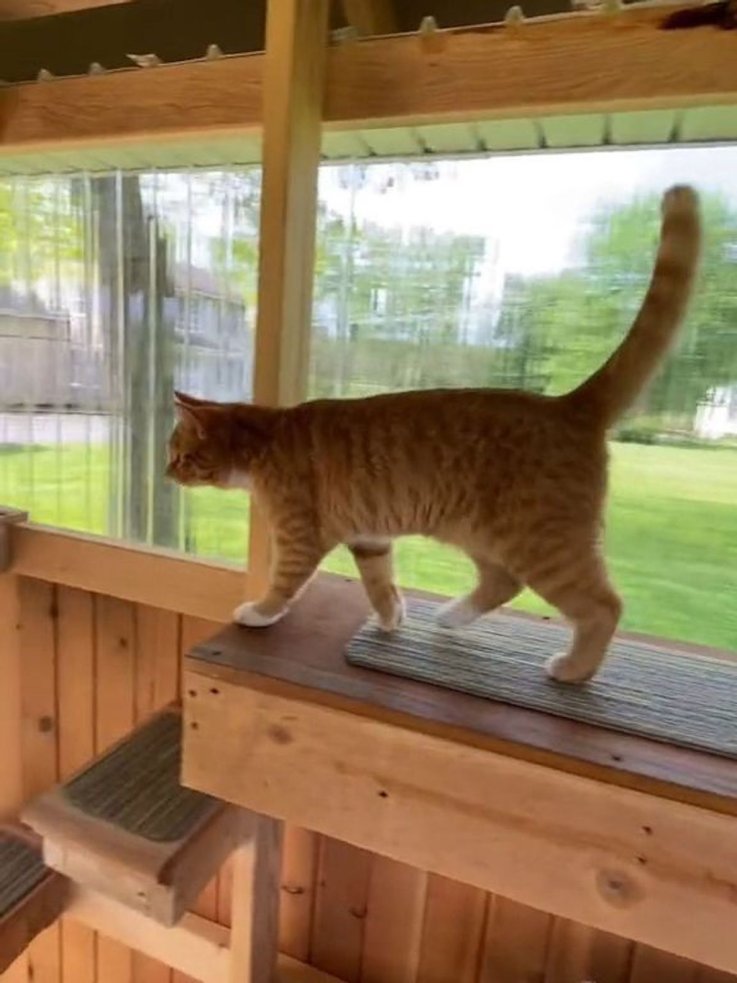 A couple in Rochester, New York, built an impressive cat house for their cat colony.
@freedomfarmhouse/Zenger
Bott then focuses the camera on part of the cat house that serves as a climbing area, saying that she calls it their "jungle gym."
Bott told Zenger News that the cat house took four weekends to build at a cost of around $2,500.
She said her husband built the house himself after coming up with a design for it with the help of his father.
Bott told Zenger News: "It took about four weekends in total to build the cat house and cost approximately $2,500. The cats love all of their climbing areas and being able to stretch out and perch by the windows.
"Dylan built the whole structure himself and came up with the vision together with his dad.
"Most people had a great reaction to our new cat house and were just as excited to see the cats use it as we were!"
Bott added: "We are renovating our home this summer and plan to create a sun room/cat room for the cats to use as well. This will provide them with a safe, heated place come winter."
This story was provided to Newsweek by Zenger News.
[ad_2]

Source link