MORAVIA — Dillon Langtry knew he wanted to make beer for a living before he was legally old enough to drink it.
Now, about a decade after the fermentation class at Moravia High School where Langtry discovered his passion for the process, he's opening a brewery in his hometown: Owasco Lake Brewing.
Perched on Rockefeller Road, with a picturesque view of the lake valley, the 2-barrel farm brewery will open for outdoor seating not long after Memorial Day, Langtry told The Citizen. The barn that houses the taproom should follow soon, as the brewery just needs its certificate of occupancy from the town of Moravia. Additional plans for the space include live music and barbecue chicken.
Langtry wants families to feel welcome at his brewery, he said. With its tap list of basic styles like brown and blonde ales, he wants all types of beer fans to feel welcome, too. But he and brewing partner Doug Nelson also want the humble red barn to become a destination for the most diehard of those fans, particularly the ones seeking hazy, New England-style India pale ales.
"We want to push the boundaries on everything," Langtry said. "Beer is evolving so fast that when new things come around, we don't want to be scared to try them."
"We don't want to stop tweaking our beer," Nelson added. "As soon as you say, 'This is it,' you're falling behind."
If history is any indication, Langtry won't be saying that for awhile. He bought his first brewing kit in high school, after learning about fermentation in an elective science class. By the time he graduated from Moravia in 2011, he was telling friends he wanted to open his own brewery. Playing football and baseball ahead of his age level gave him several older friends, so he tested his beers on them.
"The beer was terrible," he said with a hearty laugh. "But I had so much fun doing it — the whole process, the anticipation."
Shortly after Langtry graduated, Cayuga County's craft beer scene began to take shape. He contacted Dawn Schulz of Prison City Brewing in Auburn, Sallee Ten Eyck of Summerhill Brewing and Mark Grimaldi and Joe Shelton of Aurora Brewing Co., among others, in hopes of finding his way into the business locally. He even offered to babysit Ten Eyck's children, he joked.
Unsuccessful, Langtry moved to Colorado. But his efforts didn't get any easier. Competing with people who had much more brewing experience, he was limited to bussing tables at a few places.
When Langtry moved back to Moravia around 2017, he applied to Good Nature Brewing in Hamilton. He detailed the system he used to brew in his application, as well as his passion for the business. Finally, he found his way in. Over the next few years, Langtry went from handling kegs to head brewer. Longtime friend Nelson joined him when an assistant brewer position opened.
"I learned so much (at Good Nature). A lot of what to do, a lot of what not to do. It was exactly what I needed to put me on track to this," Langtry said, gesturing at his new brewery.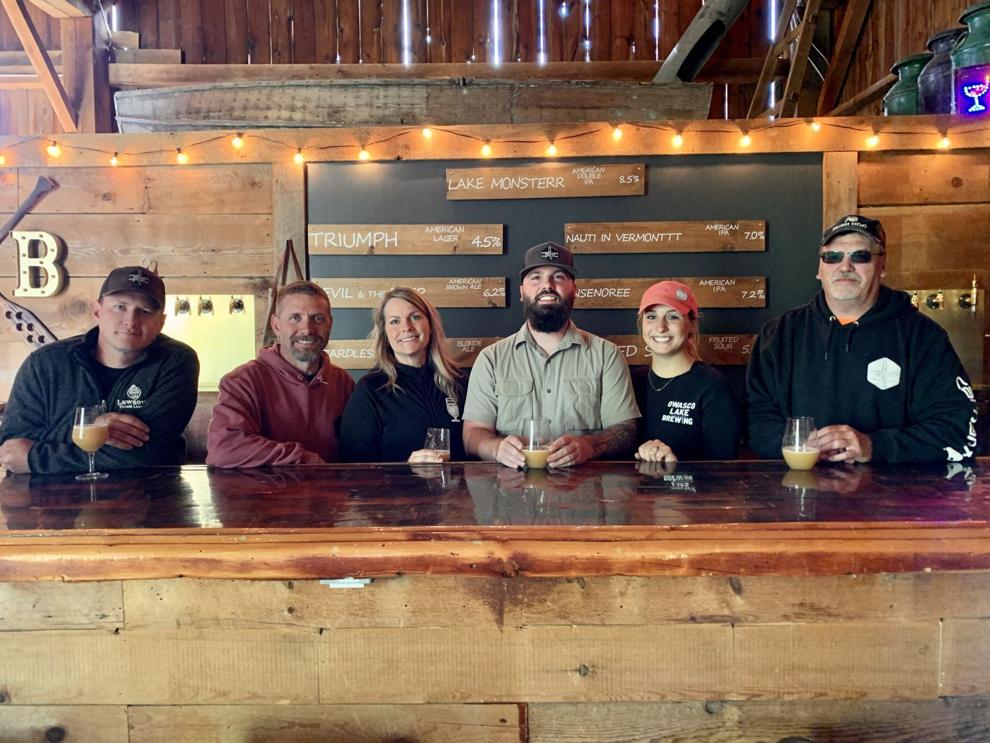 Langtry didn't just open his brewery in his hometown, though: He opened in his home. He's lived on the Rockefeller Road farm since he was 2, growing up amid the horses and cows there. Likewise, Owasco Lake Brewing is a family affair. Helping Langtry are his father, Rick; mother, Judi Nelson; stepfather, Stann Nelson; and girlfriend, Amanda Horton. Stann and Doug are cousins, too.
Doug helps Langtry brew on a 2-barrel system he bought from Aurora Brewing. It's much smaller than the system Langtry used at Good Nature, which was comparable to Prison City's new 20-barrel one. But it's his system, so he and Doug aren't limited by anything but the farm brewery license requirement that 60% of their ingredients come from New York state. As much as they like supporting local agriculture, they may apply for a second, regular brewery license so they can also make beers that don't meet that requirement, such as hazy IPAs with New Zealand hops like Galaxy.
"The biggest compliment I get is when somebody who's a light beer drinker tells you, 'Those hazy IPAs are pretty good,'" Langtry said. "They're not like your grandpa's IPA where they're super sharp."
If Langtry wants a bigger system, he has plenty of room for it. His family owns 45 acres on the brewery's side of the road, and another 60 acres on the other side. He hopes to eventually build a pole barn taproom on the other side, which offers a better view of the lake. But that's a couple summers away, he said. This one will be spent building the name of Owasco Lake Brewing instead.
The brewery has opened for limited hours a few times, including a weekend last fall that saw about 150 people pack the outdoor seating area. Langtry has sold kegs of his beer to restaurants like 10-10 BBQ in Moravia and Gilda's in Skaneateles as well. But there are better margins selling beer by the glass, and with eight taps pouring at all times, he's excited to be in business.
Langtry's not the only one who's excited: Neighbors often stop by to see if the brewery is open yet. That's partly why he named the brewery after the lake, he said. It's his home in more ways than one.
"The lake people have been so supportive. Anybody on a fire lane comes up for something to do," he said, then added with a laugh, "Not that they need anything to do, they live on a lake."
Gallery: Inside Owasco Lake Brewing, opening soon